AMG's follow up album to the
mighty SLS, this one's heading straight for the 911 turbo. Driven by 4 litres of twin turbo charged dry sump V8 charisma, that low slung body with a mile long bonnet and a stuby boot, this macho statement on wheels has lots to entice customers. Though marketed as a Grand Tourer, its performance figures are not short of hardcore, what with it sprinting to 60 mph in 3 seconds dead and not giving up untill your on the loonier side of 186 mph. With the bells and whistles GT S costing $130k, it still is a lot less than what the 911 turbo commands. In the market, it competes with the not so august company of the Mclaren Sports Series, the technofest called Audi R8, and ofcourse, the venerable 911.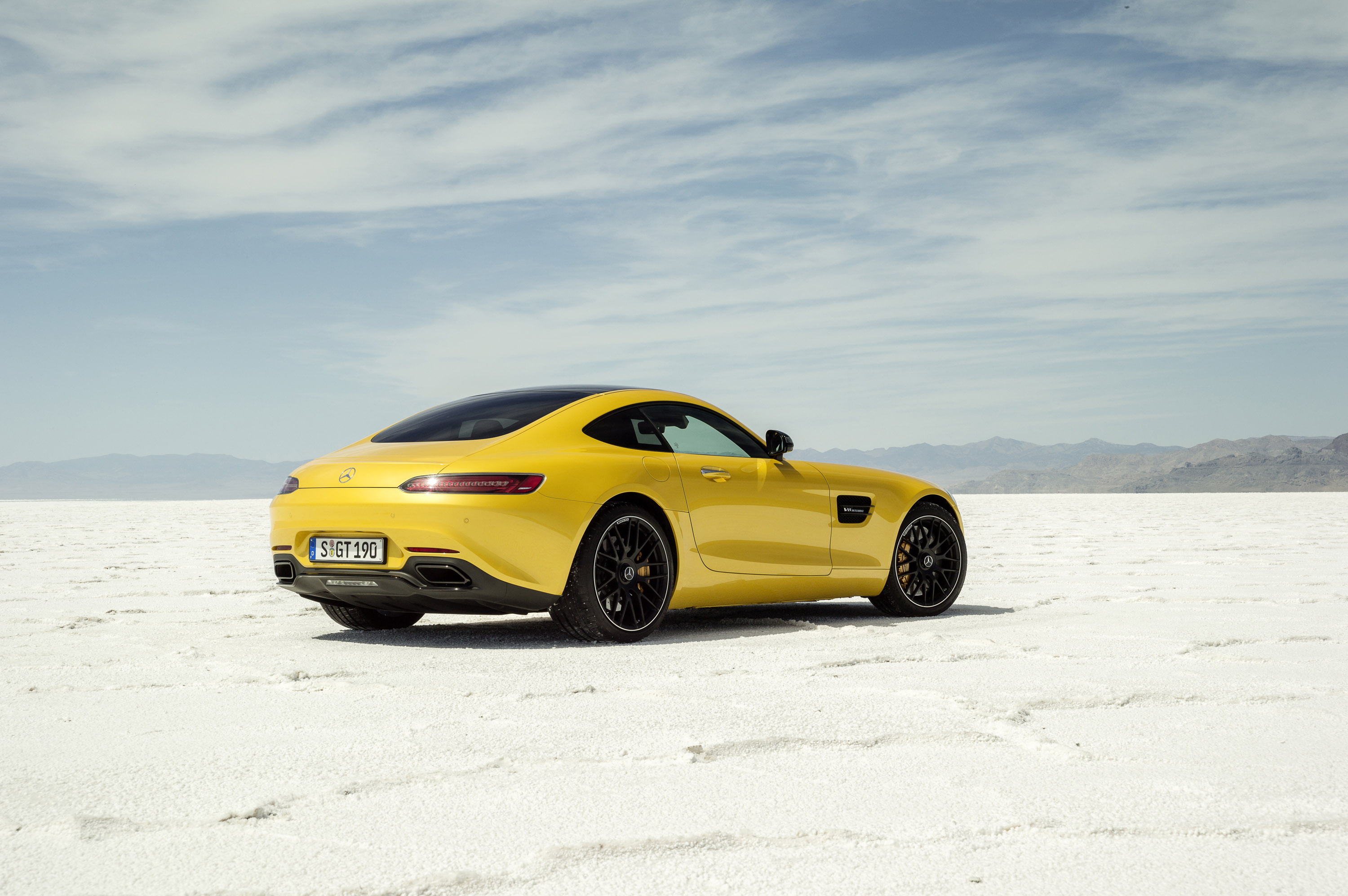 History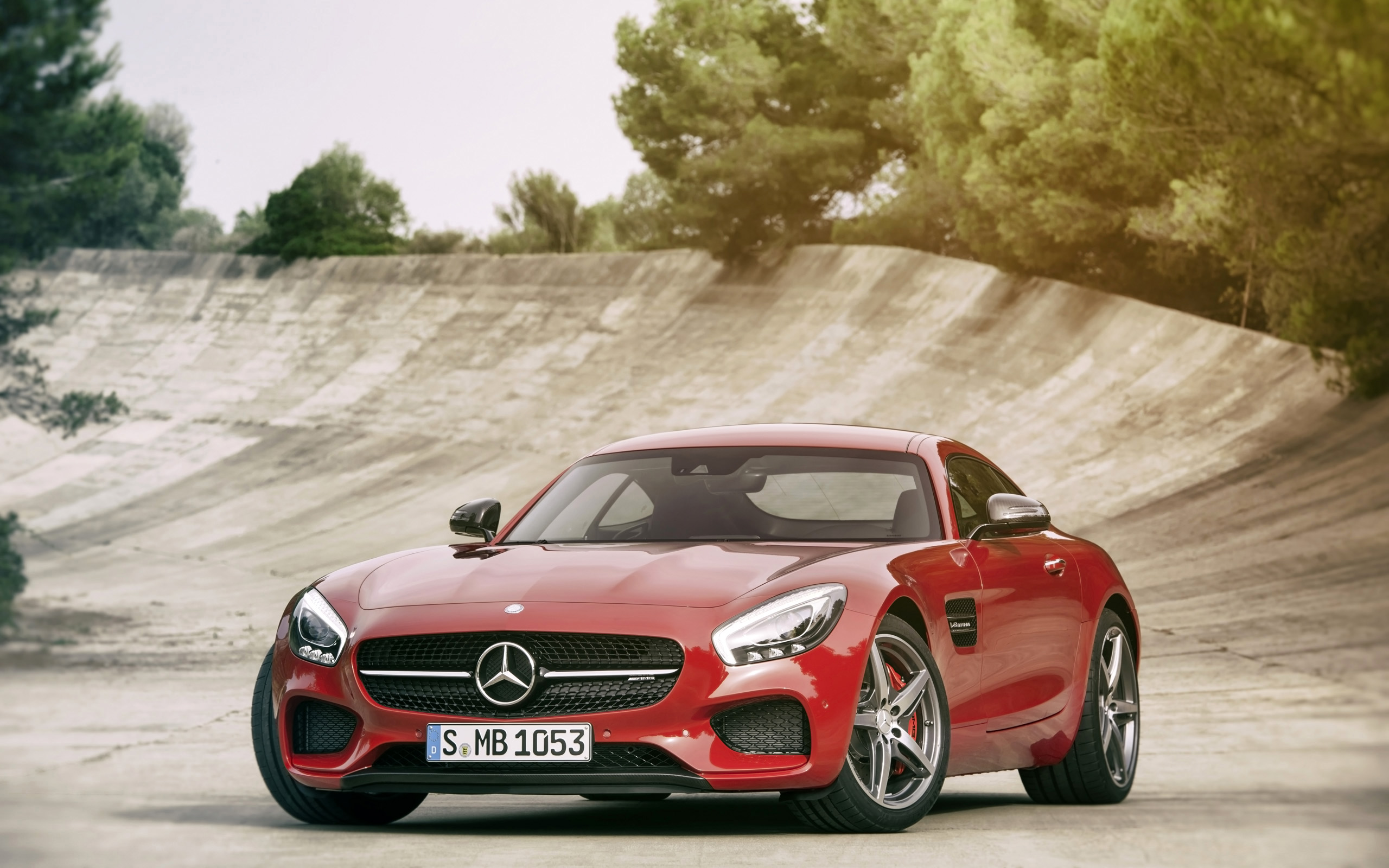 The interior of the Mercedes-AMG GT was previewed on April 16, 2014. The car made its debut on 9 September 2014. At launch two models are available: the GT, with 350 kW (476 PS; 469 bhp), and the GT S with 375 kW (510 PS; 503 bhp). The GT has 600 N·m (443 lb·ft) of torque, and the GT S has 650 N·m (479 lb·ft) of torque.
The Mercedes-AMG GT S is Formula 1's current safety car, having made its debut in that role at the 2015 Australian Grand Prix.
Mercedes-AMG CEO Tobias Moers promised a Black Series variant of the Mercedes-AMG GT, as well as a GT3 racing and street version, to rival the Porsche 911 GT3. Mercedes-Benz has confirmed that the new Mercedes-AMG GT S will cost starting at $129,900.
Specifications
The GT uses a front mid-engine, rear-wheel drive layout, with the engine inside the vehicle's wheelbase. The spaceframe chassis and body are made out of aluminium alloys, while the boot lid is steel and the engine bonnet magnesium. The suspensions are double wishbones front and rear, with forged aluminium wishbones and hub carriers.
The car is powered by a front-mid mounted M178 4-litre twin-turbo V8. This new V8 is in "hot inside V" configuration—with exhaust and turbochargers inside the cylinder banks to reduce turbo lag—and uses dry-sump lubrication. Power is sent to the rear wheels through a transaxle 7-speed AMG Speedshift dual-clutch transmission; the GT S model employs an electronically controlled mechanical limited-slip differential. In Car and Driver's road test, the AMG GT S accelerated from 0-60 in 3.0 seconds and ran the quarter mile in 11.2 seconds.
Mercedes-AMG GT, engines and performance, manufacturer's data

Model

Engine

Power at rpm

Torque at rpm

CO2
Acceleration
0–100 km/h [0-60 mph]

Top speed

GT

3,982 cc (243.0 cu in) twin-turbocharged V8 petrol

349 kW (475 PS; 468 hp) @6000

600 N·m (440 lb·ft) @1500–5000

216 g/km

4.0 s [3.9 s]

304 km/h (189 mph)

GT S

375 kW (510 PS; 503 hp) @6250

650 N·m (480 lb·ft) @1750–4750

219 g/km

3.8 s [3.7 s]

310 km/h (193 mph)